Special film
DIATON films for protection of mobile phone screens,
ÌÐ3 players and sensor screens of handheld computers.
Technical specifications
Screen protection film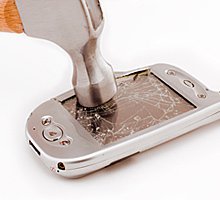 In our times we often deal with sensor-type and flat screens of displays - those of mobile phones, ÌÐ3 players and the like. Such devices are meant for regular use and often are carried in handbags, pockets so screen can be easily damaged. It is important to remember that quality protective films shall not damage screen upon their removal.
Stiff protective layer
Stiff protective layer protects devices from damage and scratches as inner and external surfaces of mobile phones, sensor screens and navigators get easily scratched and dropped. Stiff protective layer of film is heat resistant.
PSA adhesive layer
If you buy films from DIATON Studio you will see a difference in the use of adhesive in-between film layers: the adhesive used is 100% silicon, which ensures that NTH-100S does not leave any spots after film removal.
Many companies are after low prices and therefore their silicon layer is 20 µm, while we apply a silicon layer of over 25 µm to improve quality of the product. You can easily check it yourself having removed one strip from the film and comparing with films of other companies. Our products are coated with NTH-100S, which protects again fingerprints. Another important advantage of our films is much higher transparency compared with any other films of other companies.
Product code
Thickness (µm)
Notes
NTH-100S
228±2 µm
100% pure silicon, UV - protective stiff layer
PET transparency high abrasion resistance
Structure
Protective PET film
50 µm
Stiff layer
2-3 µm
Basic PET film
100 µm
Silicon adhesive
25 µm
Protective PET film
50 µm

Standard characteristics
Characteristics
Specification
Testing method

(general)
thickness

228±2 µm
NTECH method
(optical)
transparency
dullness

98%
2%

ASTM-D1003
ASTM-D1003

(physical)
pencil hardness

(stiff layer)
adhesiveness

(stiff layer)
Lift-off resistance

(PSA layer)

2Í


100/100


600±200 ã/25 mm


1500±200 ã/25 mm


Pencil hardness test
(1 kg load)


cross-cut test method


ASTM D6001 (after 30 minutes)


ASTM D6001 (after 24 hours)
Professional installation is a key factor of applying window films as incorrect installation may reduce all the advantages of such films to zero. Window tinting with own hands is not an easy task, even if film is quite thick. Window film installation shall be performed by specially-trained and specially-equipped professionals only.
Co-operation with DIATON will help you to avoid such situations as insufficient transparency, lumps on film' surface, deterioration of films' transparency, and disintegration of film coating. Our specialists will give you professional advices regarding the choice of best films for your premises.
Please remember that professional installation will not take much of your time and will not impede the ordinary course of your life.
DIATON' services for film installation are certified (Certificate ÎÄÑ 169/Ð issued on 03/07/11).
We deliver all over Ukraine. Our partner transport companies:

We have extended dealer network in Ukraine
Call us right now!
You may also like:
| Decorative films | Car window tint | Sun-screen films |
| Anti-shock films | Energy saving films |