Decorative films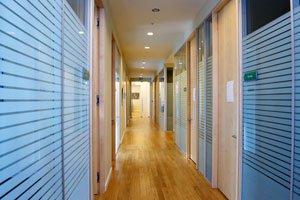 Modern interiors impress by their versatility and technological innovations. New styles and movements appear and, of course, our tastes change under the influence of western fashion. Modern interiors are distinguished by huge amounts of glass, plastic and metal.
Of course, glass (windows) broadens the limits giving the feeling of unlimited space. However, anyone needs complete privacy at least sometimes, that's why life in full public view is very tiresome. That is what decorative window films are needed for.
These films are meant to limit or totally close the view. And at that it is very important not to stop light penetration. This way you can use virtually all the advantages of glass interior in the same time preserving your privacy and freedom from curious looks.
Also decorative films are a perfect material to give a premise a unique style. They allow fulfilling any design in a refined and original way looking harmoniously and naturally.
Decorative films can be installed on any glass surface starting from small elements of the interior and ending with modern glass facades, and they look appropriate everywhere while remaining functional.
Decorative films are the best solution for modern interiors!
The important moment is professional installation of window films. As all the advantages of window films may be reduced to zero id film is installed without professional assistance, even if film is quite thick, because it is not as easy as it seems. Window films shall be installed by professionals with special installation equipment only.
Co-operation with DIATON will help you to avoid such situations as insufficient transparency, lumps on film' surface, deterioration of films' transparency, and disintegration of film coating. Our specialists will give you professional advices regarding the choice of best films for your premises.

DIATON' services for film installation are certified (Certificate ОДС 169/Р issued on 03/07/11).
Our partner transport companies:

We extend our dealer network in Ukraine
Call us right now!
You may also like:
| Sun-screen films | Car window tint | Other films |
| Anti-shock films | Energy saving films |