Anti-shock films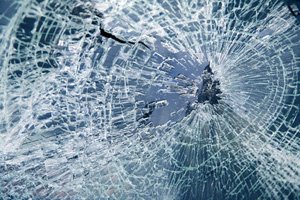 Anti-shock films by DIATON Studio belong to a special type of films making a window pane less fragile and protecting it from shocks and other damage. Anti-shock films are made of several layers of thin but strong polymers, and also contain high-performance molecular glue that gets activated under pressure with a special water solution.
Protective anti-shock films are resistant to various mechanical impacts. When applied to a window on the premises' side, such film makes it shatterproof. These films don't get destroyed and absorb the maximum of the energy of a shock wave in case of explosion. In most cases after explosion people get injured by glass fragments. Anti-shock films protect glass from breaking and thus protect people from injuring.
Anti-shock films retain glass inside window frames preventing from glass fragments getting inside the premises, so people inside stay safe. Though, in case of glass being broken, which happens very rarely, it falls out of the window frame as one piece instead of falling to pieces.
Anti-shock films will take care about your safety!
More details>>
Professional installation is a key factor of applying window films as incorrect installation may reduce all the advantages of such films to zero. Window tinting with own hands is not an easy task, even if film is quite thick. Window film installation shall be performed by specially-trained and specially-equipped professionals only.
Co-operation with DIATON will help you to avoid such situations as insufficient transparency, lumps on film' surface, deterioration of films' transparency, and disintegration of film coating. Our specialists will give you professional advices regarding the choice of best films for your premises.
Please remember that professional installation will not take much of your time and will not impede the ordinary course of your life.
DIATON' services for film installation are certified (Certificate ОДС 169/Р issued on 03/07/11).
We deliver all over Ukraine. Our partner transport companies:

We have extended dealer network in Ukraine
Call us right now!
You may also like:
| Decorative films | Car window tint | Other films |
| Sun-screen films | Energy saving films |